Ditch the stabilisers
Last year Ronan delivered a fantastic programme 'ditch the stabilisers' to the year 1& 2 children. We are delighted to now offer this to our new Year 1 children in school following the previous success. This is a practical session lasting around 45 minutes, held during the school day, where parents come along and support their child in the process of riding without stabilisers. Ronan will be leading the session, supporting parents on what to do at home in relation to your child's progress throughout the day. This is a fantastic opportunity in preparation for the Spring, to enable your child to learn to ride their bike independently.
Due to the nature of the programme only 15 children will be able to take part in this activity over 3 sessions. Sandra will be sending out a letter in the coming weeks so keep your eyes peeled as places will be secured on a first come basis. If demand is high for this programme we will consider running another session. Please note, this is specifically for Year 1 children however if places become available Year 2/3 children will then be offered.
Parents must attend the session as it is tailored towards supporting parents in this process. Children must bring their own bikes and helmets to school on the day.
Cycle skills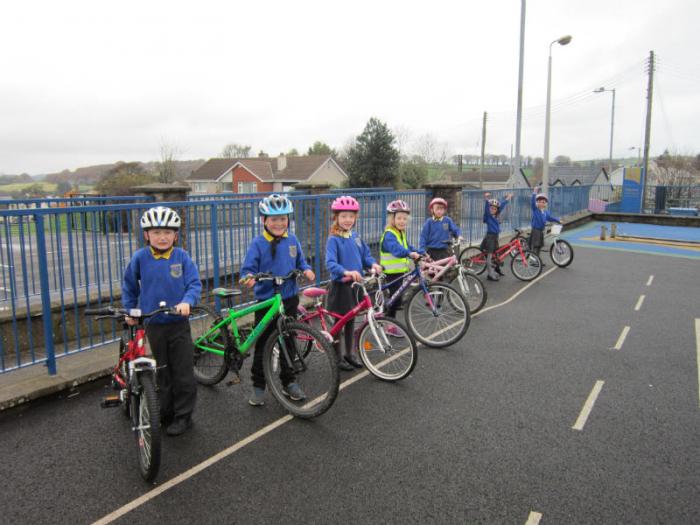 Sustrans
This year we have been shortlisted to take part in the fantastic, "Active School Travel Programme". Our school applied to take part in this initiative and fortunately we are one of the few schools to have been chosen. Throughout the year, Ronan, our leader from Sustrans, will be coming into school to deliver assemblies and workshops such as Dr Bike, which will allow children throughout the entire school to bring their bikes to school to have them checked over, to ensure they are cycle-safe.
As with the Eco award, our school must now fulfil certain criteria in order to achieve a bronze, silver and gold award. Ronan has been out in school and has identified barriers to our success such as the lack of cycle paths in the village. With his help, we hope to be able to address this issue, enabling the children of Artigarvan Primary School to become more active in their everyday lives and on their journeys to and from school.
I look forward to updating you more on this exciting programme within our school, for now, why not take a look at the Sustrans website where you can read about the results and testimonies from current and previous participating schools.
https://www.sustrans.org.uk/NIschools
1
Artigarvan Primary School 31 Berryhill Road Artigarvan Strabane BT82 0HN 028 | Telephone: 028 71 883684