Welcome to Artigarvan Primary School
Artigarvan Primary School and Community Nursery are committed to providing a happy, secure and caring environment in which our children can learn. We look to the education of the whole child so that each of their needs can be met and their full potential developed. We look to do this not on our own but in partnership with our parents.
Sustrans Active School Travel Programme

We are continuing with our "Active School Travel Programme" this year. Our aim this year is to achieve our Silver award Last year Ronan ran fantastic competitions and training in our school, I'm sure there are lots more activities for this year!
We continue to complete our daily mile each day in school. Every day the whole school will go outside and run for a mile- staff are included in this! You can visit their website for more details on this fantastic idea! https://thedailymile.co.uk/
I look forward to updating you more on this exciting programme within our school, for now, why not take a look at the Sustrans website where you can read about the results and testimonies from current and previous participating schools.
T-Team is back!
Get revising your multiplication facts at home, remember to sign-up in school. T-Team is held each Wednesday at 10.25 in Mrs Kane's room, see you then!
Our new pupils at Artigarvan :)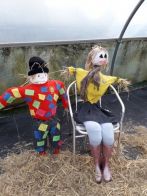 The Nursery children and the children in the bus room worked together to make 2 wonderful scarecrows that are proudly displayed in the New Horizon Garden centre in Strabane. The scarecrows will be on display at Melvin Hall over the Halloween festivities. Keep your eyes peeled for our new pupils and why don't you take some photos to promote our school.
Have a Spooktacular Halloween :)
Latest Gallery
Upcoming Events...
Monday, 16th December 2019
Music Tutor (9.00-10.30am)
Music Tutor (9.00-10.30am)
Mandarin Workshops (11.30am-2.30pm)
Musical Pathways (1.00-2.00pm)
Football Coaching with Mr C (3.00-4.00pm)
Tuesday, 17th December 2019
Whole School Nativity (7.00pm)
Bagpipe Tutor (1.00-2.30pm)
Wednesday, 18th December 2019
Whole School Nativity (9.30am)
Library Van (11.00am)
Thursday, 19th December 2019
SDC Coaching (9.00-11.00am)
PRACTICAL CHILD PEDESTRIAN TRAINING SCHEME

PRACTICAL CHILD PEDESTRIAN TRAINING SCHEME
Much progress has been made over the years in efforts to reduce the number of child casualties involved in road collisions across the country. The contribution made in this regard by teachers in our schools has been immense through the delivery of general curriculum related work along with various road safety schemes such as the 'Cycling Proficiency Scheme'. A more recent addition is the 'Practical Child Pedestrian Safety Training' scheme where children have the opportunity to practise what they have learned in the classroom by participating on a supervised walk in the proximity of the school.
Artigarvan Primary School are currently participating in the three year scheme and have been working closely with the Department for Infrastructure (DfI) Road Safety in this regard. It involves starting with pupils in Primary 3 (Stage 1) who then participate in Stage 2 the following year, and finally Stage 3 in their Primary 5 year. The class teacher follows a six week teaching plan which concentrates on specific topics with the scheme devised to increase the knowledge, skills and understanding of children in a progressive fashion - each year building upon what has been taught in the previous stage/s.
Now into Stage 2, the Primary four children at Artigarvan Primary have been learning about issues such as the Green Cross Code, Safer Places to Cross, and what various road signs mean. To put the theory into practise, they will soon participate in a walk on roads in the general area of the school where the associated road safety problems will be encountered, negotiated and discussed. The walk encompasses such issues as 'safer places to cross the road', ' proper use of the school crossing patrol', along with lots of opportunities for the children to practise using the 'Green Cross Code'.
Adequate adult supervision will be provided by school staff with a representative from DfI Road Safety on hand to lead the walk and help ensure that the exercise is a success. So far the scheme has been successful and there are hopes that it will be extended and offered to other schools in the future. Any such measure which has a chance of reducing child casualties on our roads is surely to be commended.
Artigarvan Primary School 31 Berryhill Road Artigarvan Strabane BT82 0HN 028 | Telephone: 028 71 883684