Building Bridges
13th Jun 2016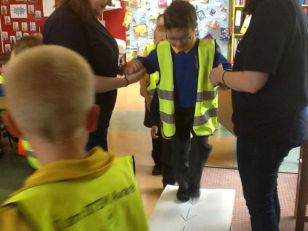 Today P2/3 had 2 ladies from Derry City & Strabane District Council doing a 'Bridges' workshop with them in class.
First they showed us lots of lovely pictures from the area in the council and we identified and discussed them.
There were lovely pictures of bridges - 7 large ones in this area in total - and the children shared their knowledge and experiences of the bridges.
Then as a team we worked together to build a bridge from cardboard and everyone's pole structure was taped together before a road way was put across the top.
And guess what!!?? We were all able to walk across the bridge - even Mrs Harper!!!
Artigarvan Primary School 31 Berryhill Road Artigarvan Strabane BT82 0HN 028 | Telephone: 028 71 883684